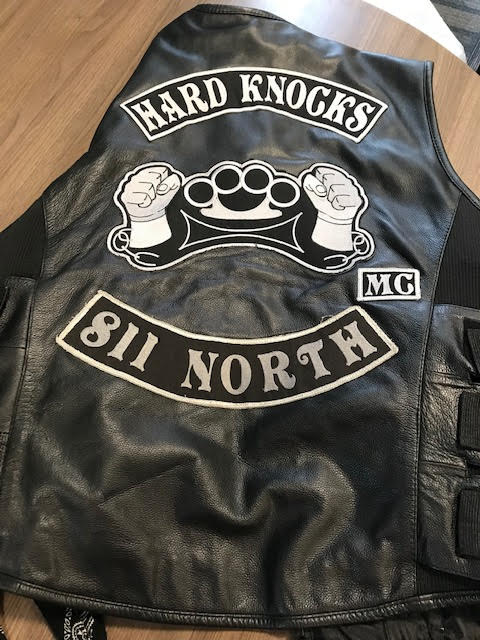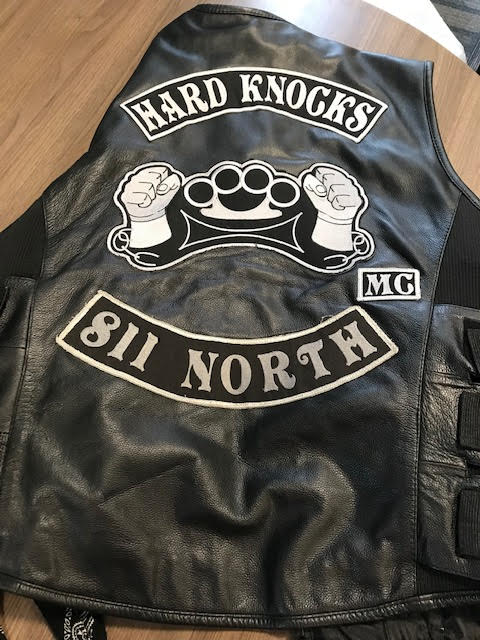 One of the individuals that attend Walnut Street Center is Joe, whose personal story is one of hope and healing. He's a quiet, humble man with a remarkable positive attitude. He has loved motorcycles since he was nine-years-old and his friendship with the members of the Hard Knocks Motorcycle Club runs deep. His friends visit him once a week. They cut his hair, take him to rallies or visit motorcycle shops. While his three kids ages 10-15 years don't ride, Joe would be okay if it made them happy. "It's just life," he says, from a chair with his tattooed arm draped in a sling and a long brace around his leg.
Joe survived life-threatening injuries from an accident on a tragic night in May 2015 while riding his Harley Davidson Road Glide motorcycle alone. The impact threw him into a fence.
"I was left for dead," he said.
He suffered trauma to his neck, spinal cord, stomach, and knee, and was in a medically induced coma for three months to heal. His memories are fuzzy as he moved from two hospitals to rehab. At one point, he wore a Halo brace to hold his head and neck still so his neck bones and ligaments could heal. He then had to relearn all the self-care activities that we take for granted.
"Everyday is a good day. I don't have any bad ones," says Joe.
He visits Walnut Street Center four-days-a-week from his residential program in Billerica, where he lives with roommates. The Habilitation Program provides clients with severe head injuries with habilitative medical, and therapeutic services to help restore cognitive, physical, and speech-related functions. One of Joe's favorite therapeutic activities is music therapy and he looks forward to working with the therapist weekly. Joe's long-term goal is to achieve functional independence and move closer to Medford to be near his kids.
Joe credits the support of his family, medical professionals, and the camaraderie of his motorcycle club for never giving up on him. Together, they gave him the power to heal and beat the odds. Even today, Joe is active with the Hard Knocks Motorcycle Club as its Enforcer upholding clubs law and collecting dues. He advises anyone to ride with a buddy, and to avoid high traffic, stop-and-go areas. Long highways like ones in Florida are his favorite.