Walnut Street Center is proud to be a resource to the community, both for those we serve directly, as well as others. Our online media kit includes information, facts, and details about the organization and our programs. Please also check out our social media pages, such as Facebook, where we provide additional news and resources daily.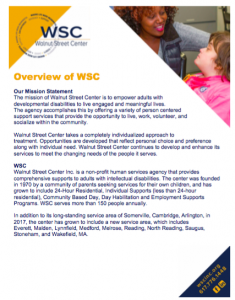 WSC Organization Overview
WSC Fact Sheet
WSC Services Overview Trifold
WSC Day Services Trifold
WSC Residential Services Trifold
Social Media Flyer
Looking for more? Please visit our FAQ – Frequently Asked Questions page to learn about attaining services from Walnut Street Center for you or a loved one to how you can help us serve our community.